Montreal, November 14, 2019 – Desjardins has been a long-time financial partner and supporter of Les Reproductions BLB inc. as it has grown into a major consolidation player in Quebec's industrial and commercial printing industry. This past May, the company completed its ninth acquisition, bringing Saint-Hubert's Mirazed inc. into the fold. The deal brought the number of employees at Les Reproductions BLB inc. to 200 and sales to over $30 million.
« This deal was an important part of our strategic plan, » says René-Pierre Roussel, co-owner of the group. « Desjardins has been there for us financially for 15 years, and bringing Desjardins Capital on board as a minority shareholder will help us fast-track our growth. »
The next phase of that growth will occur under a new name: Canva Group. The new entity's unique logo is a drop of ink falling onto a printing surface. It will be rolled out to all the group subsidiaries operating in their respective sectors.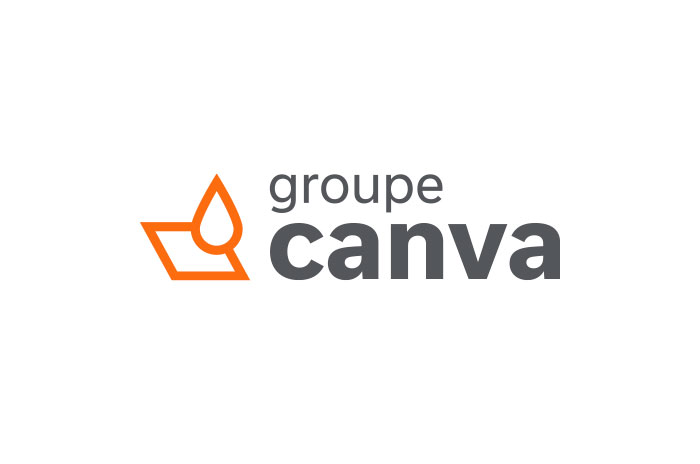 « We'll be keeping the names of the entities that bring new expertise to the group, have excellent reputations and provide outstanding customer service. That's what makes our group strong, and the future acquisitions will share the same attributes, » says Hugo Leclair, co-owner of Canva Group.
« Desjardins Capital is proud to support Canva Group's growth and acquisition plans in Quebec and elsewhere in North America," explains Luc Ménard, COO of Desjardins Capital. "Canva Group is a flagship Quebec company in industrial and commercial printing. The quality of their management team made our decision to become a shareholder an easy one. »
About Canva Group:
Canva Group is a leading holding company in the industrial and commercial printing. Made up of nine complementary businesses acquired over the past 15 years, Canva Group has 200 employees in Quebec operating under three independent business units: Idenco Canada (Boucherville), Décalcomanie Artistic (Montreal) and Mirazed (Saint-Hubert). A one-stop shop for visual graphics and communications, Canva Group provides complementary services that include screen printing and digital printing to more than 5,000 clients across Canada, the United States and Mexico.
About Desjardins Capital:
For nearly 45 years, Desjardins Capital has fulfilled its mission to promote, support and nurture Quebec SMEs. With assets of C$2.5 billion, Desjardins Capital helps contribute to the longevity of approximately 500 companies, cooperatives and funds in various sectors across Quebec. In addition to helping create and maintain more than 60,500 jobs, this subsidiary of Desjardins Group offers business owners access to a large business network that supports business growth. For more information, go to the site web website or LinkedIn page.
Source :
Philippe Béland
VP, Administration & Strategy
Canva Group
pbeland@groupecanva.com
514-382-0351, ext. 5250
Richard Lacasse
Spokesperson
Desjardins Capital
media@desjardins.com
418 835-8444 or 1 866 835 8444, ext. 5563163